Love is in the air here at Croots Farm Shop, so much so that we are celebrating not just the 14th of February but an entire week (11th – 19th). Including our lovely sparkling breakfast, romantic lunches, tasty afternoon teas and of course not forgetting our special Valentines Night itself.
Not able to join us? no problem! we have the ultimate Valentines cook at home kit available for you (see below for full details) and of course lots of Valentine gifts and chocolates in the shop whilst stocks last. Also we have a fantastic takeaway Afternoon Tea (see below for full details).
Valentine Sparkling Breakfast
Available from 11th – 19th Feb, Opening until 11am.

 
Start your Valentines the right way with our delicious Sparkling Breakfast menu, where you can start with lovely toasted breads and croissants whilst enjoying a cold prosecco.
Move on to a light Crunchy Granola, Ham & Melon or Fresh Fruit Salad before choosing one of Kelvins special Croots Breakfast options. Will it be Avocado & Scrambled Eggs, Benedict, Royale, Florentine or will you succumb to Our Famous Croots Breakfast?
Finishing off with a freshly brewed coffee or loose tea whilst looking out over the beautiful views that Croots Cafe has.
Just £25 per person
To book please call 01332 843032 or email cafe@croots.co.uk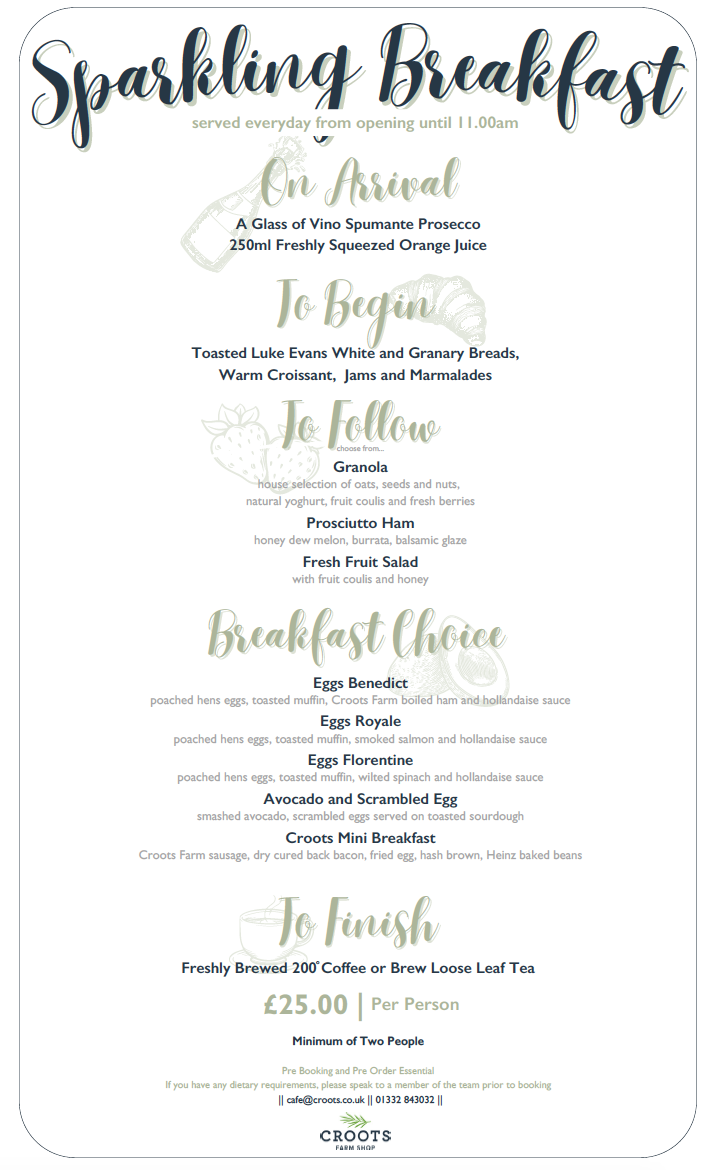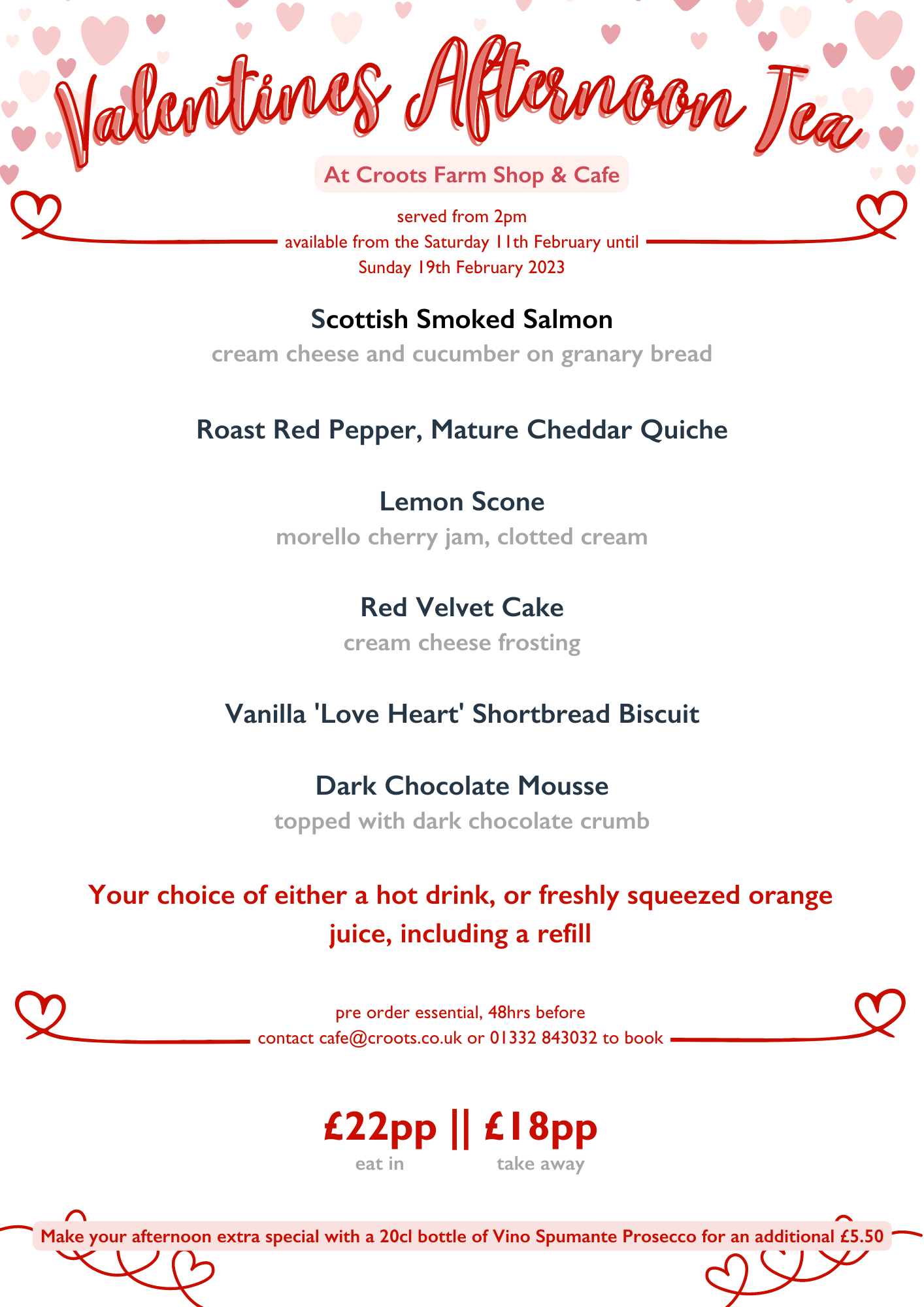 Valentine Afternoon Tea
Available from 11th – 19th Feb, 2pm – 4pm.

 
How about something a little different for your loved one this year? A Croots Afternoon Tea is a great way to indulge on a variety of lovely flavours whilst chatting away.
Served with hot drinks or freshly squeezed orange juice you will have sandwiches, quiche, scones, cake, biscuits and mousse to enjoy.
We also make Afternoon Tea takeaway boxes that can be pre-ordered and collected for the day of your choice.
Just £22 per person
To book please call 01332 843032 or email cafe@croots.co.uk

Valentines Supper
Available 14th Feb, 7pm Onwards

 
Treat your loved ones to a beautiful Valentines meal that is locally sourced and super farm fresh.
Choose from delicious flavours of either the Celeriac Veloute, Cauliflower Cheese or Beetroot Cured Salmon.
Moving on to Croots grass fed Three Way Lamb or the Seabass Fillet or our Hazelwood Hall Farm 28 Day Aged Sirloin. 
Finish off with a warm chocolate fondant with local Bluebells Ice-cream, the Raspberry Parfait or our Croots Cheeseboard (full of our favourites).
Variety of wines, spirits, local beers available.
Just £42 per person
To book please call 01332 843032 or email cafe@croots.co.uk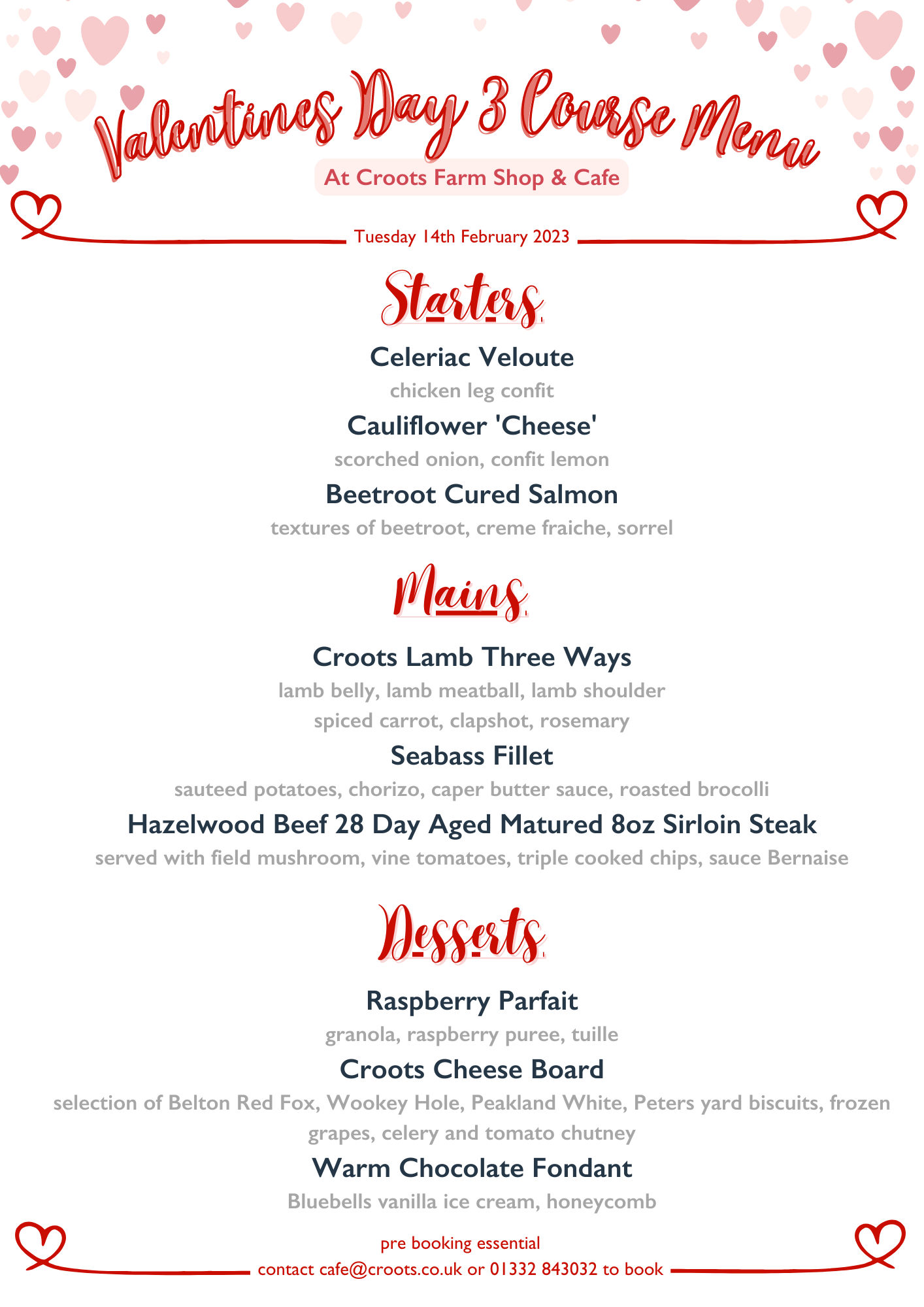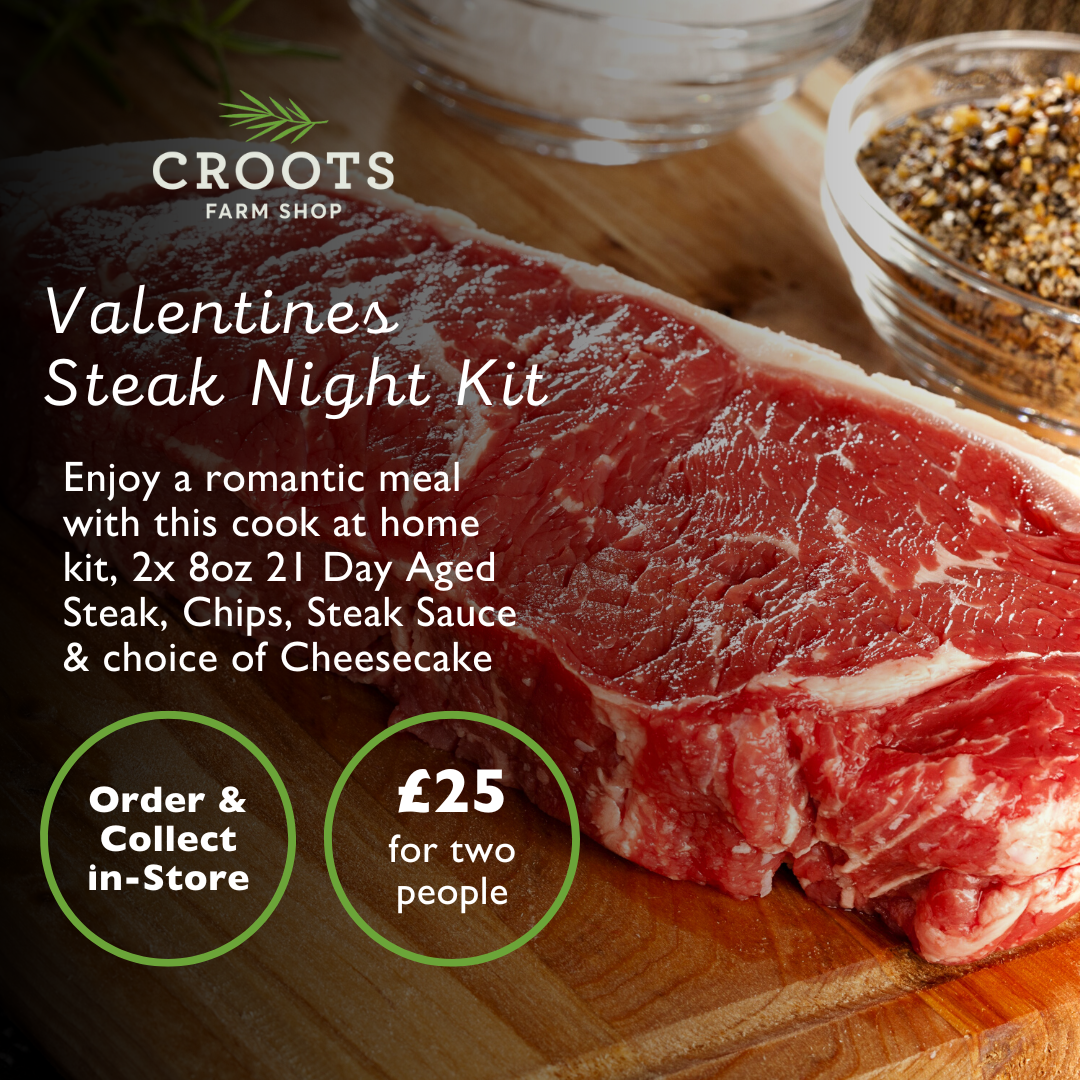 Valentines Steak Night Kit
Available from 11th – 19th Feb

 
Enjoy a romantic meal with this cook at home kit using the very best Croots or local suppliers. includes…
2 x Hazelwood Hall Farm 21 Day Aged 8oz Sirloin Steaks, Steakhouse Chips and a choice of Pepper or Diane Sauce
——
Choice Of Vanilla or Lemon Cheesecake
Just £25 for 2 people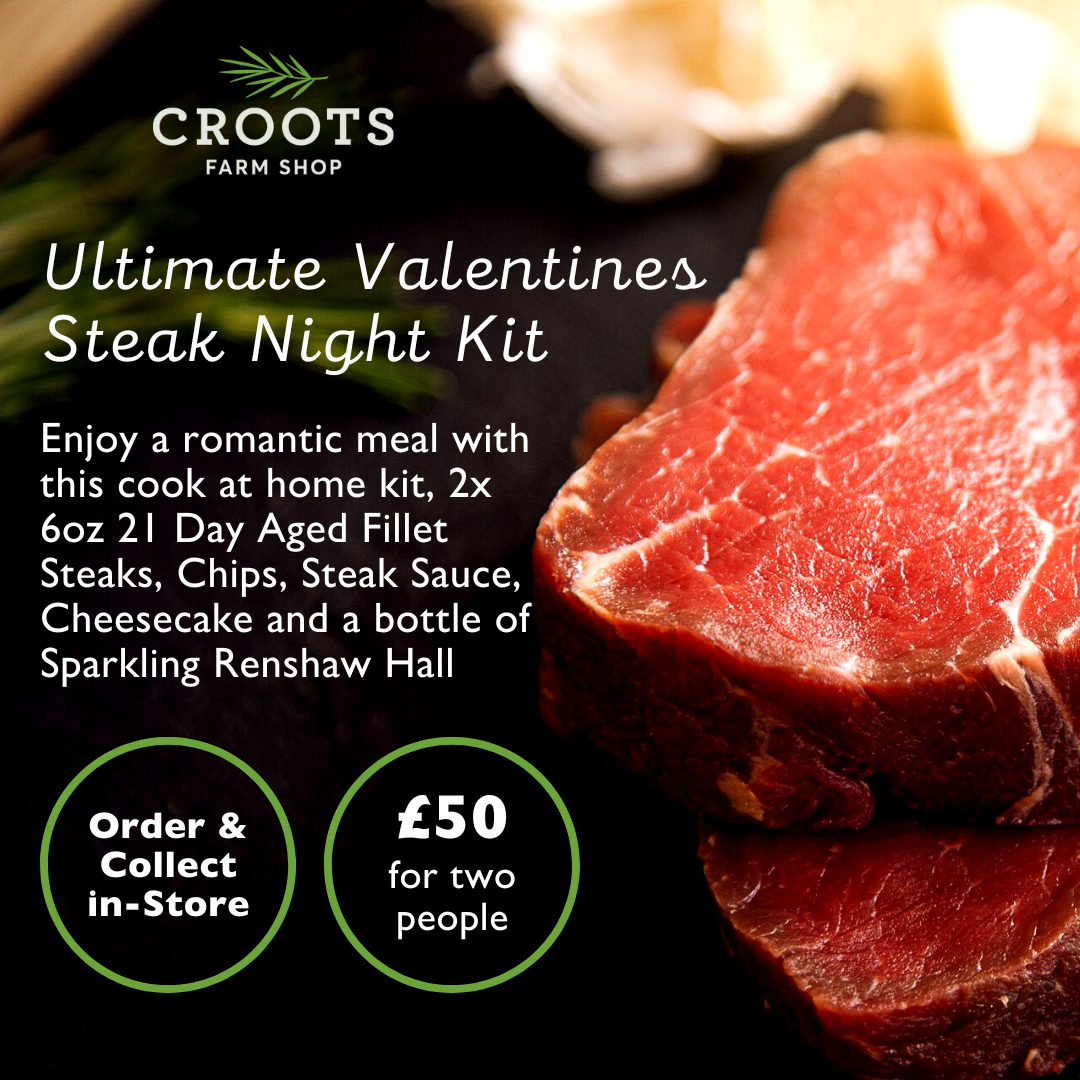 Ultimate Valentines Steak Night Kit
Available from 11th – 19th Feb

 
Enjoy a romantic meal with this cook at home kit using the very best Croots or local suppliers. includes…
2 x Hazelwood Hall Farm 21 Day Aged 6oz Fillet Steaks, Steakhouse Chips and a choice of Pepper or Diane Sauce
——
Choice Of Vanilla or Lemon Cheesecake & bottle of Renshaw Hall Sparkling (white or rose) wine
Just £50 for 2 people